Hello tout le monde, j'ai du mal à choisir entre les deux couvertures....
SPILL THE SWEET TEA BY LYRA PARISH
Release date: September 19th
Genre / Tropes:
Romance / second chance / hate to love you / grumpy/sunshine / contemporary / small-town southern romance / rom-com vibes / a happily ever after.
Series: Valentine Texas Series #2 - Standalone
📚🌟 CHECK OUT THESE AMAZING COVERS!!🌟📚
Get ready to indulge in a heartwarming and spicy southern romance that will leave you craving more! Introducing Spill the Sweet Tea by Lyra Parish. 🍹💕
Some call her a quirky, moonlight-charging journalist with a nose for the juiciest stories in town. She's about to spill the tea like never before, and you won't want to miss it!
📅 Mark your calendars: Spill the Sweet Tea will be released on September 19th.
PRE-ORDER TODAY:
Amazon:
https://www.amazon.com/dp/B0C5L3VNKT/
Apple:
https://bit.ly/spillthesweetteaonapple
Kobo:
https://bit.ly/spillthesweetteaonkobo
Barnes:
https://bit.ly/spillthesweetteaonbarnes
Google Play:
https://bit.ly/spillthesweetteaongoogle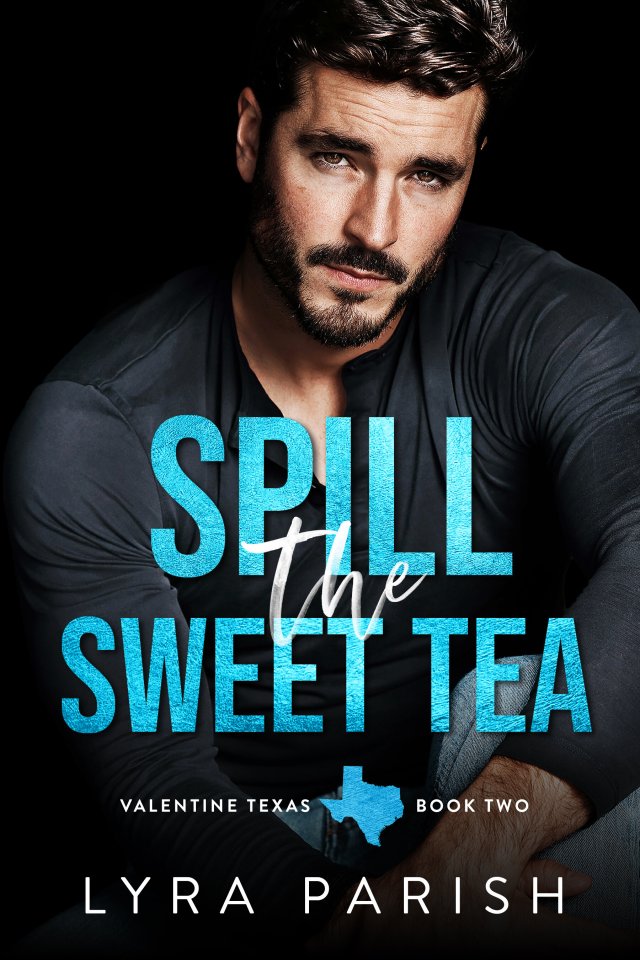 ADD TO YOUR TBR
Goodreads:
https://bit.ly/spillthesweetteaongr
Bookbub:
https://bit.ly/spillthesweetteaonbb
WHAT YOU CAN EXPECT:
-grumpy/sunshine
-second chance, high school sweethearts
-hate to love you
-rom-com vibes
-Texas small-town romance-family saga
-hard to get
-sassy heroine
-cinnamon roll hero
-spicy AF scenes
-complete stand alone
-guaranteed happily ever after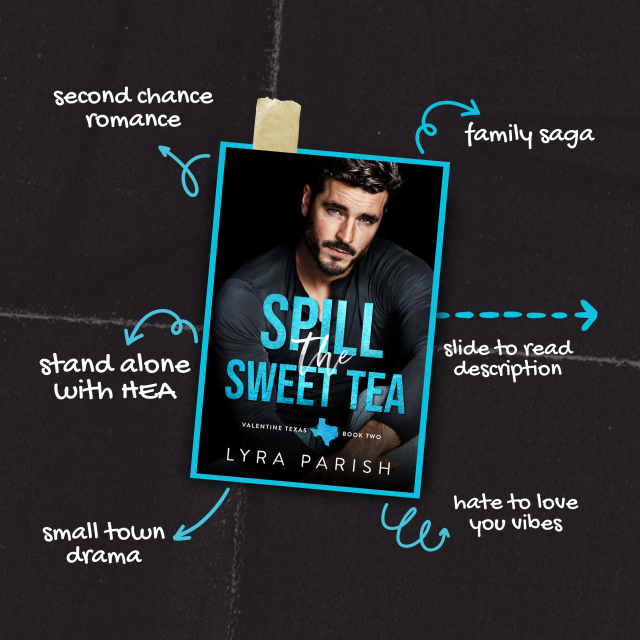 BLURB:
Some describe me as a quirky, free-spirited journalist who charges her crystals by moonlight.
They're not wrong.
My instincts ensure I know everything that goes on in my small town. And not much surprises me. But when the man who destroyed my heart returns to care for his family's business, I'm shaken to the core.
After our messy breakup, Hayden Shaw swore he'd never come back to Valentine, Texas.
Years later, I'm still trying to forget we ever existed.
Damn near impossible when he's now everywhere.
A constant reminder of what could have been.
Rumors swirl about his true intentions, but a little gossip has never bothered me.
However, if winning over my heart is his end game, he can hang up his spurs because I won't make the same mistake twice—or will I?
Spill the Sweet Tea is a second chance, brother's best friend, hate to love you, grumpy/sunshine contemporary small-town southern romance with rom-com vibes and a happily ever after. Each book in the Valentine Texas series is a stand-alone. Warning: this romance book contains tons of southern sass, lots of woo-woo, and small-town gossip! Fade to black and cheating are not included.
About the Author:
Lyra Parish is a hopeless romantic who enjoys creating characters who eventually find love. She likes to write Texas small-town contemporary romance books (because she's a 5th-generation Texan) and romantic suspense. When she isn't immersed in fictional worlds, you can find her on Youtube chatting about her self-publishing journey or podcasting about romance books. Lyra's a Virgo who loves coffee, the great outdoors, authentic people, and living her very best life with her hubby. You may or may not know her from when she co-wrote under the USA Today Bestselling pen name Kennedy Fox.
Connect with the author:
Website:
https://www.lyraparish.com/
Instagram:
https://www.instagram.com/lyraparish
Tiktok:
https://www.tiktok.com/@lyraparish
Facebook Page:
https://www.facebook.com/lyraparishauthor
Facebook Group:
https://www.facebook.com/groups/658111944228905
Newsletter:
https://view.flodesk.com/pages/63cb1417b4f015f30446d3d0
Goodreads:
https://www.goodreads.com/author/show/7256865.Lyra_Parish
Bookbub:
https://www.bookbub.com/authors/lyra-parish
Amazon Profile:
https://www.amazon.com/stores/Lyra-Parish/author/B00HTFM1JM