Hello tout le monde, je vous reparle de ce quatrième tome (mais qui peut se lire totalement indépendamment des autres) demain, en attendant voici toutes les informations concernant cette parution !
💙 𝗛𝗢𝗧 𝗡𝗘𝗪 𝗥𝗘𝗟𝗘𝗔𝗦𝗘 💙
𝗕𝗲𝗳𝗮𝗹𝗹𝗲𝗻 𝗳𝗿𝗼𝗺 𝗯𝗲𝘀𝘁𝘀𝗲𝗹𝗹𝗶𝗻𝗴 𝗮𝘂𝘁𝗵𝗼𝗿, 𝗗𝗿. 𝗥𝗲𝗯𝗲𝗰𝗰𝗮 𝗦𝗵𝗮𝗿𝗽, 𝗮𝗻 𝗲𝗺𝗼𝘁𝗶𝗼𝗻𝗮𝗹, 𝘀𝗲𝗰𝗼𝗻𝗱 𝗰𝗵𝗮𝗻𝗰𝗲 𝘀𝘁𝗮𝗻𝗱𝗮𝗹𝗼𝗻𝗲 𝗿𝗼𝗺𝗮𝗻𝗰𝗲 𝗶𝗻 𝘁𝗵𝗲 𝗖𝗮𝗿𝗺𝗲𝗹 𝗖𝗼𝘃𝗲 𝘀𝗲𝗿𝗶𝗲𝘀 𝗶𝘀 𝗟𝗜𝗩𝗘!!
#𝟭-𝗰𝗹𝗶𝗰𝗸 𝘁𝗼𝗱𝗮𝘆!
BOOK BLURB
From bestselling author, Dr. Rebecca Sharp, comes an emotional, second chance standalone romance in the Carmel Cove series.
It took only a matter of moments to turn Cambria Mariano into a survivor.
Moving back home, a ghost of her former self, Cammie hoped family and a familiar routine would help her find a new normal.
But months and miles couldn't erase the trauma that had befallen her.
Something needed to change. Cammie knows she needs to fight for a stronger version of herself before she loses everything. Unfortunately, the only way to hone that fight has a name: Bennett Covington, her new martial arts instructor and the golden boy whose heart she broke. Benny has always had his eye on the shy baker's daughter. Though the spark between them burns hotter than ever, he sees Cammie's heart is even more guarded. But Benny is a patient man; He'll give her time to trust herself—
and him.
As Cammie's confidence returns, so do the demons from her past. To stop the crimes in town, she'll have to speak up against those who will do anything to keep her silent.
And when she does, she'll risk not only her new life but her second chance at love.
Warning: This novel contains references to subjects that may be sensitive to some readers.
💙
PURCHASE LINKS
Amazon Universal:
mybook.to/ReadBefallen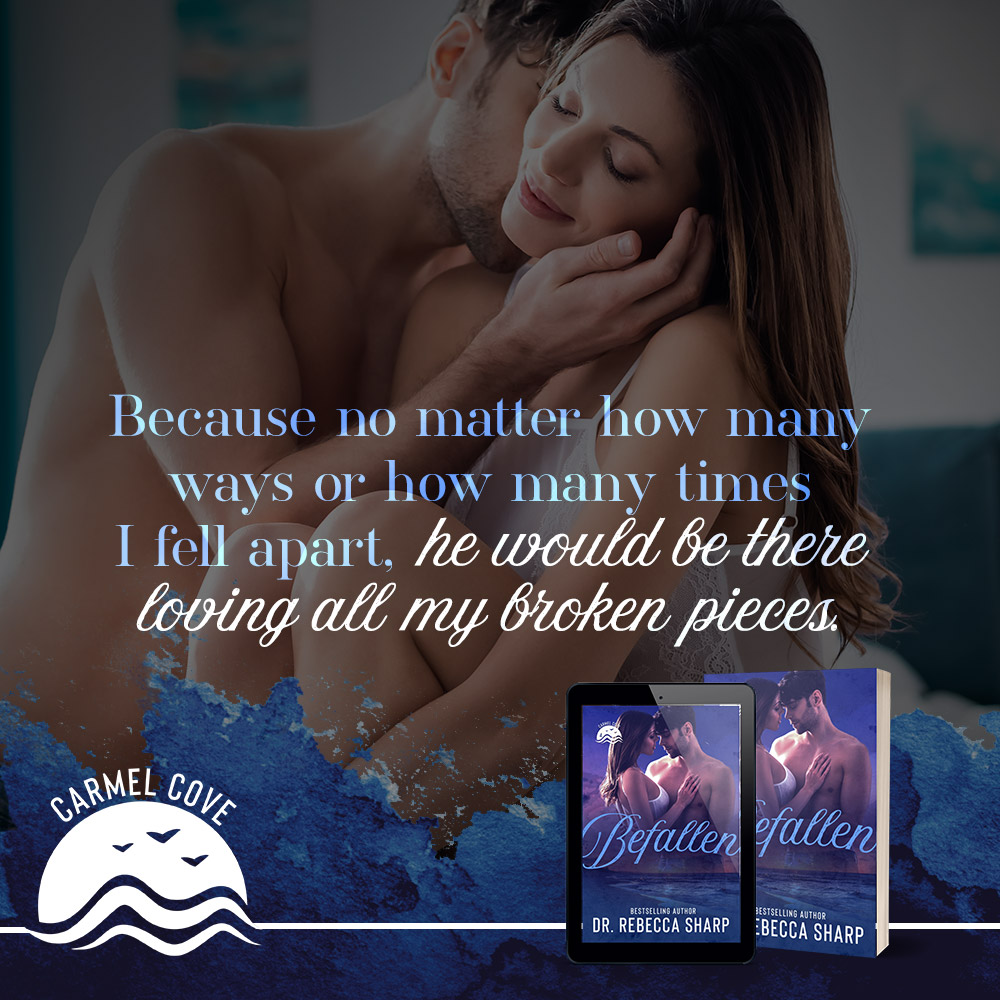 ABOUT THE AUTHOR
Dr. Rebecca Sharp, while using a pen name, is actually a doctor living in Pennsylvania with her husband - the love of her life.
She enjoys working in her practice with her father as well as letting her creativity run free as an author. Growing up she's always loved a good love story and finally decided to give writing one of her own a go.
After graduating with her doctoral degree, she now enjoys spending that thing called free time traveling with her husband, cooking, and knitting.
AUTHOR LINKS
Facebook |
Reader Group |
Instagram |
Twitter |
Mailing List |
Goodreads |
Amazon |
BookBub