Hello tout le monde, je suis en plein dans ma lecture donc je vous en reparle très vite! Le moins que l'on puisse dire pour l'instant est que c'est intense...
A HOLLY JOLLY EVER AFTER BY SIERRA SIMONE & JULIE MURPHY
Release Blitz:
October 10th
Genre / Tropes:
Holiday Romance / Second Chance / Celebrity Romance / Fake Relationship / Romantic Comedy
Series: A Christmas Notch - Book 2 - Standalone
Experience a Holly Jolly Ever After Like Never Before!
A Holly Jolly Ever After By Sierra Simone & Julie Murphy is now LIVE!
Get ready to unwrap the ultimate holiday romance! This book has all the magic of the season and more! Amazon: https://amzn.to/3Dp0oBc Apple Books: https://apple.co/3EczbTb Kobo: https://bit.ly/3Op6ZSL Nook: https://bit.ly/3Q4Lmbm Google https://bit.ly/3pQQPYT
Add to Goodreads: https://www.goodreads.com/book/show/78133383-a-holly-jolly-ever-after
Blurb
:
Following the success of A Merry Little Meet Cute, a new holiday rom-com cowritten by #1 New York Times bestselling author Julie Murphy and USA Today bestselling author Sierra Simone--about an actress and a perpetually single former boy-band member reunited as costars on a steamy holiday film. Kallum Lieberman is the funny one(TM). As the arguably lesser of the three former members of the boy band INK, he enjoyed his fifteen minutes of fame and then moved home where he opened a regional pizza chain called Slice, Slice, Baby! He's living his best dad bod life, hooking up with bridesmaids at all his friends' weddings. But after an old one-off sex tape is leaked and quickly goes viral, Kallum decides he's ready to step into the spotlight again, starring in a sexy Santa biopic for the Hope Channel. Winnie Baker did everything right. She married her childhood sweetheart, avoided the downfalls of adolescent stardom, and transitioned into a stable adult acting career. Hell, she even waited until marriage to have sex. But after her perfect life falls apart, Winnie is ready to redefine herself--and what better way than a steamier-than-a-steaming-hot-mug-of-cider Christmas movie? With decade old Hollywood history between them, Winnie and Kallum are both feeling hesitant about their new situation as costars...especially Winnie who can't seem to fake on screen pleasure she's never experienced in real life. She's willing to do the pleasure research--for science and artistic authenticity, of course. And there's no better research partner than her bridesmaid sex tape hall of fame costar, Kallum. But suddenly, Kallum's teenage crush on Winnie is bubbling to the surface and Winnie might be catching feelings herself. They say opposites attract, but is this holly jolly ever after really ready for its close-up?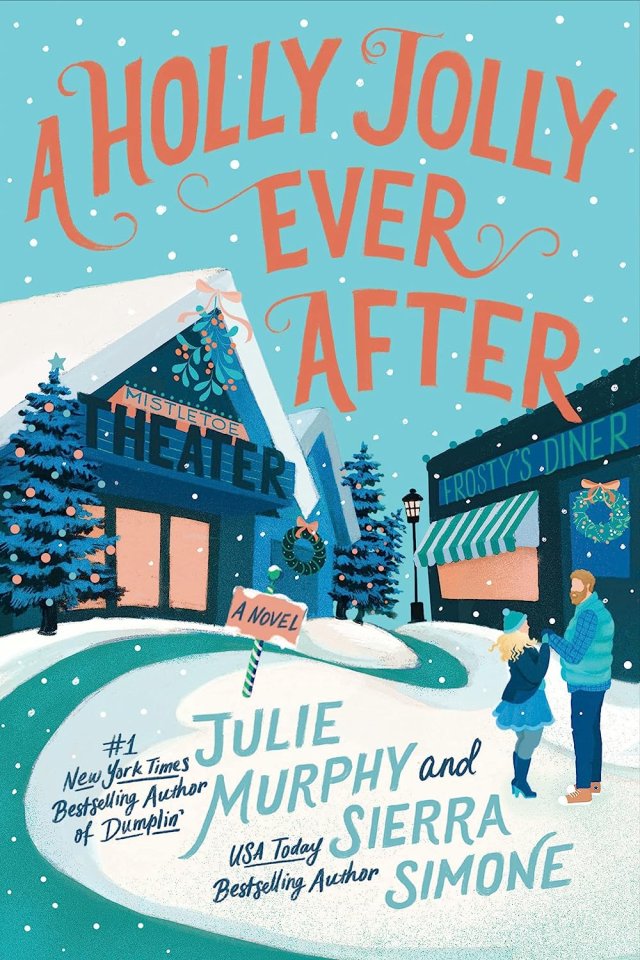 About Sierra Simone:
Sierra Simone is a USA Today Bestselling former librarian (who spent too much time reading romance novels at the information desk.) She lives with her husband and family in Kansas City.
Connect w/Sierra Simone:
Facebook:
https://www.facebook.com/TheSierraSimone/
Facebook Group:
https://www.facebook.com/groups/SierraSimonesLambs
Twitter:
https://twitter.com/TheSierraSimone
Amazon:
http://amzn.to/1PDR4K4
Goodreads:
http://bit.ly/1oo9WEh
Instagram:
https://www.instagram.com/thesierrasimone/
Website:
http://authorsierrasimone.com/
Subscribe to Sierra's newsletter:
https://www.subscribepage.com/sierrasimone
About Julie Murphy:
JULIE MURPHY lives in North Texas with her husband who loves her, her dog who adores her, and her cats who tolerate her. After several wonderful years in the library world, Julie now writes full-time. When she's not writing or reliving her reference desk glory days, she can be found watching made-for-TV movies, hunting for the perfect slice of cheese pizza, and planning her next great travel adventure. She is also the author of the young adult novels Dumplin' (now a film on Netflix), Puddin', Ramona Blue, and Side Effects May Vary. You can visit Julie at
www.juliemurphywrites.com
.
Connect w/Julie:
Website
www.juliemurphywrites.com
Instagram
https://www.instagram.com/andimjulie/
Twitter
https://twitter.com/andimJULIE
Pinterest
http://pinterest.com/andimjulie
Facebook
https://www.facebook.com/juliemurphywrites