Découvrir ce tome 1.5 m'a forcément donné envie de lire le premier et puis la suite...
SNOW PLACE LIKE LA BY SIERRA SIMONE & JULIE MURPHY
Release date:
July 11th
Genre / Tropes:
MM Romance / Christmas in July / Second Chance / Romantic Comedy
🎄 Get ready for a steamy second chance with Snow Place Like LA by Sierra Simone and Julie Murphy!
This Christmas in July rom-com takes you on a whirlwind journey of love, fate, and unexpected reunions. Join Angel and Luca as they navigate the twists and turns of a small town that suddenly feels too small.
Don't miss out on this heartwarming and steamy read!
Get your copy now and experience the magic of love. Amazon: sierrasim.one/KindleSnowPlace Apple Books: sierrasim.one/AppleSnowPlace Kobo: sierrasim.one/KoboSnowPlace Nook: sierrasim.one/NookSnowPlace Google: sierrasim.one/PlaySnowPlace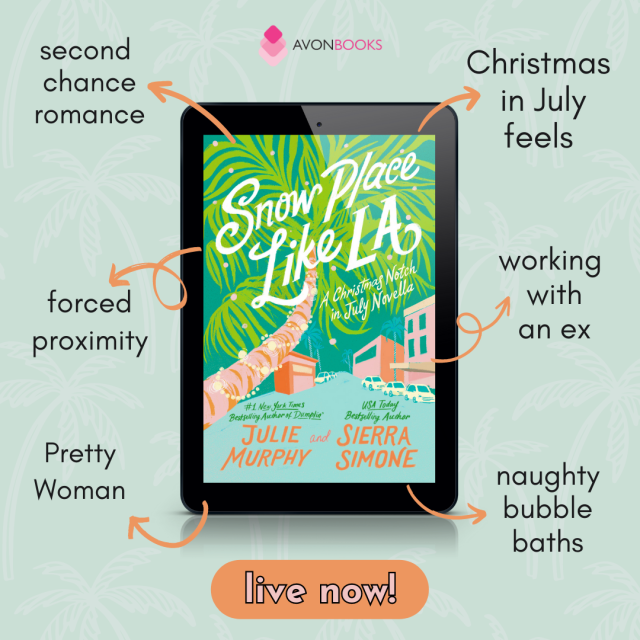 Add to your TBR Goodreads: https://bit.ly/44hnGF4 Bookbub: https://bit.ly/3O7HPb8
Blurb Cowritten by #1 New York Times bestselling author Julie Murphy and USA Today bestselling author Sierra Simone—a steamy second chance Christmas in July rom-com. After Angel and Luca connected on the set of Duke the Halls and had a whirlwind romance in the literal snow globe of Christmas Notch, Vermont, Luca found himself falling in love. Hard. He'd never been one to believe in fate or true love, but one thing was certain: Angel was his person. He knew it as well as he knew the history of American figure skating. But when Angel left for an art school semester abroad without a word, Luca's already brittle heart was broken. No one ghosted Luca. Unless he was in a haunted house. But with the spring semester long over, Angel is back home in Los Angeles for the summer, and unfortunately for Luca, this big town is turning out to be smaller than either of them ever expected.
About Sierra Simone: Sierra Simone is a USA Today Bestselling former librarian (who spent too much time reading romance novels at the information desk.) She lives with her husband and family in Kansas City. Connect w/Sierra Simone: Facebook: https://www.facebook.com/TheSierraSimone/ Facebook Group: https://www.facebook.com/groups/SierraSimonesLambs Twitter: https://twitter.com/TheSierraSimone Amazon: http://amzn.to/1PDR4K4 Goodreads: http://bit.ly/1oo9WEh Instagram: https://www.instagram.com/thesierrasimone/ Website: http://authorsierrasimone.com/ Subscribe to Sierra's newsletter: https://www.subscribepage.com/sierrasimone
About Julie Murphy: JULIE MURPHY lives in North Texas with her husband who loves her, her dog who adores her, and her cats who tolerate her. After several wonderful years in the library world, Julie now writes full-time. When she's not writing or reliving her reference desk glory days, she can be found watching made-for-TV movies, hunting for the perfect slice of cheese pizza, and planning her next great travel adventure. She is also the author of the young adult novels Dumplin' (now a film on Netflix), Puddin', Ramona Blue, and Side Effects May Vary. You can visit Julie at www.juliemurphywrites.com. Connect w/Julie: Website www.juliemurphywrites.com Instagram https://www.instagram.com/andimjulie/ Twitter https://twitter.com/andimJULIE Pinterest http://pinterest.com/andimjulie Facebook https://www.facebook.com/juliemurphywrites