J'aime énormément cette saga de Scarlett Cole et je suis impatiente d'avoir l'histoire de King !!
THE BONDS WE BREAK
S. Cole
Release Date: August 28: Apple, Nook, and Kobo August 31: Amazon and Kindle Unlimited
Rae When Uther "King" Hills, president of the Iron Outlaws MC, shows up at my home, I know it's for one thing. Revenge. My life for my brother's, a traitor to the club. My sacrifice to ensure his loyalty. But I know a thing or two about tragic kings. They never win. What I didn't know was how they can steal your heart in the process of trying. King Rae Miller is my enemy's little sister. And I intend to ruin her before I toss her back at her brother's feet. Even as my actions tear my club apart. Except this Shakespeare-quoting fire-cracker has me seeing ghosts. I don't scare her. She outwits me at every turn and has a body I can't get enough of. The fact I want to kill every person who ever hurt her is irrelevant. Only, when she's at risk because of me, I pray the bonds I've broken can mend themselves. Because without my club, we don't have a hope of surviving. TW: References to past self-harm (cutting) and abuse (not sexual), dubious consent, issues with food preparation (not eating disorders), praise kink.
Preorder your copy: Amazon: https://www.amazon.com/dp/B0C661CJJ7 Nook: https://www.barnesandnoble.com/w/the-bonds-we-break-s-cole/1143580404?ean=2940167357563 Apple: https://books.apple.com/us/book/the-bonds-we-break/id6449790885 Kobo: https://www.kobo.com/us/en/ebook/the-bonds-we-break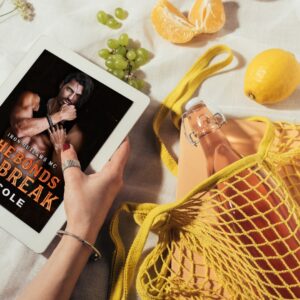 Meet S. Cole: The tattoo across my right hip says it all really. A Life Less Ordinary. Inked by the amazingly talented Luke Wessman at the Wooster Street Social Club (a.k.a. New York Ink). Why is it important? Well, it sums up my view on life. That we should all aspire to live a life that is less boring, less predictable. Be bold, and do something amazing. I've made some crazy choices. I've been a car maker, a consultant, and even a senior executive at a large retailer running strategy. Born in England, spent time in the U.S. and Japan, before ending up in Canada where I met my own, personal hero – all six and a half feet of him. Both of us are scorpios! Yeah, I know! Should have checked the astrological signs earlier, but somehow it works for us. We have two amazing kids, who I either could never part with or could easily be convinced to sell on e-bay. I've wanted to be a writer for a really long time. Check through my office cupboards or my computer and you'll find half written stories and character descriptions everywhere. Now I'm getting the chance to follow that dream. To find out about S. Cole's upcoming releases and giveaways, sign up for her newsletter here For more information on S. Cole and her books visit: http://www.scarlettcole.com/
Connect with S. Cole: http://www.scarlettcole.com/contact
Hosted by: