[Challenge] Stop Talking and read organisé par Liyah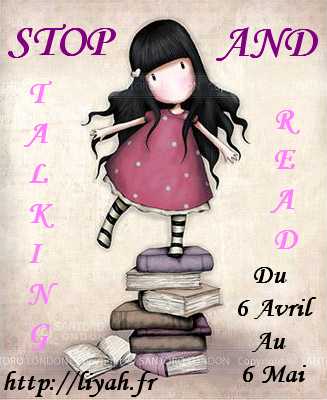 C'est parti pour moi pour cette deuxième session du challenge Stop Talking and read organisé par Liyah !
C'est sa 4ième édition mais seulement la deuxième fois que je participe.
Un petit rappel des règles :
Voici les quelques règles pour que tout se passe au mieux :
- Début des inscriptions : 24 mars 2012 ; Fin des inscriptions : 5 avril 2011, 23h59, en me laissant un commentaire à la suite de ce billet.
- Début du concours : 6 avril 2012, 00h01 ; Fin du concours : 6 mai 2012, 23h59
- A la fin du concours, il faudra m'envoyer un mail à cette adresse : leslecturesdeliyah[at]gmail.com et m'indiquer votre nombre de pages lues durant toutes cette période.
- Bien sûr, ce concours est basé sur la confiance et la bonne foi de chacun.
- Ne sont pris en compte dans le résultat que les romans (adultes ou jeunesses), ne compte donc pas les BD, manga, albums, …
- Je vous invite tous les vendredis à créer un petit billet sur votre blog afin de faire le bilan de la semaine écoulée. (Ce n'est pas obligatoire !)
- Ce concours est ouvert aux personnes que je connais un minimum, j'accepte aussi les personnes que je ne connais pas et qui ont un blog littéraire actif et ceux qui sont connus de mes amies blogueuses.
Vous pouvez encore vous inscrire jusqu'à ce soir minuit, c'est par
ICI
que ça ce passe !
Très bonne lecture à tous les participants et au 7 mai pour un petit bilan (je tacherai d'en faire un à mi-parcours ! )